I am following the PDF tutorial for Joint Pathway Analysis in MetaboanalystR in RStudio that is found on the Metaboanalyst website (https://www.metaboanalyst.ca/MetaboAnalyst/docs/RTutorial.xhtml#4.5%20Integrated%20Pathway%20Analysis).
And I am having issues running the package. I also believe the PDF may be a bit outdated as there was a dead link and some misnamed functions, but after fixing the link and the misnamed functions the code still seems to run into errors. I am wondering if there is an updated R tutorial for Joint/Integrated Pathway Analysis or if there is a solution to the errors I am running into?
Here is the code I am currently running, that has been directly pulled from the PDF tutorial (with a few changes as I named above, line 29, 50, and 60):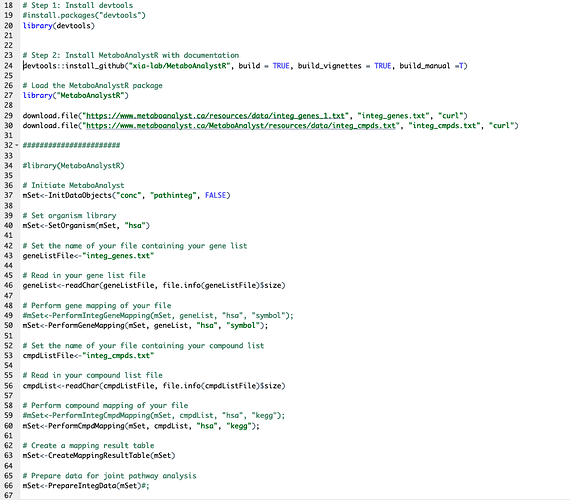 When I run line 50 I run into this error:


And when I run line 60 I run into this error:

Again, the files are directly downloaded from the Metaboanalyst and when the two files are run in the web-based tool there is no issue. Thanks in advance!