Hello,
I am analysing RNAseq data on ExpressAnalyst but I cannot perform differential analysis. I upload my file, normalize and filter it, then ask for differential analysis between two groups with Limma statistical method. But then, I have an error message (see attached picture) and the analysis is never completed.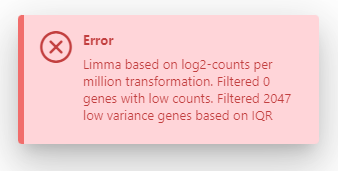 I do not understand because I was doing similar analyses few weeks ago without any issue. Any idea what could be wrong?
Thanks a lot for your help !!!